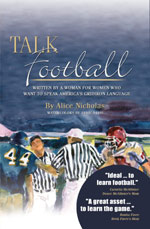 Talk Football
by Alice Nicholas


Click to Enlarge




View Back Cover

Order the Book

ISBN 13:978-0-9795187-0-6
Softcover
112 pages, 5 X 8
Watercolors by Janie Davis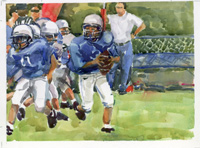 "
[Talk Football]
is a great asset to anyone trying to learn the game."


--Bonita Favre
Mother of Quarterback
Brett Favre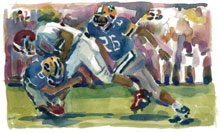 "You're not raising boys,
you're raising men."
About the Book




TALK FOOTBALL is the "go-to" football book for beginners. This purse-sized paperback includes ten brief chapters, a gridiron glossary and beautiful watercolor illustrations that explains the game clearly and concisely.





Fundraising

|

Endorsements

|

Order Now



Media Quotes

The Clarion-Ledger – "[Talk Football] has the potential to bridge a lot of gaps between husband and wives and also moms and their sons."

Mississippi Magazine - "Talk Football makes tackling the dynamics of the game easy."

Daily Journal - "Talk Football is a nice back-up for personal reference or for parents who aren't sports-oriented."

MOMSPACE.COM – "If you want to better understand the game of football, THIS IS A MUST-READ. "

The Mississippi Press – "How many times have you been to a game and had to ask, "What was that for?" or "What does that mean?" [Talk Football] is a book you can stick in your purse and reference with all your friends."

Delta Magazine - "Talk Football is one of the TOP TEN gifts to buy for Christmas."

• • •

About the Author


Alice Nicholas is a football enthusiast, devoted wife and mother. She attributes to her father and husband her initial interest in football, but credits her three sons for giving her the desire to learn the fundamentals of the game and its language and to write a simple book that a novice can understand and enjoy. She and her husband reside on their family farm outside of Jackson, Mississippi.




• • •

The Buzz on Talk Football

Bubby Brister, 15 year NFL veteran quarterback and two-time Super Bowl winner, endorsed Talk Football and offered copies for the mothers whose sons attended his Quarterback and Skill Players Camp in Mississippi, Louisiana and Colorado.

Mississippi State University's Athletic Department gave Talk Football to everyone attending the Ladies Football Clinic with Deanna Favre.

NFL first-round draft choice Michael Oher's alma mater, Briarcrest Christian School in Memphis, Tennessee, used Talk Football for their high school football moms' class.

Deno Campbell, Senior Manager with USA Football in Vienna, Virginia, told Nicholas Talk Football is a "great little book" and asked when she was going to write Volume II.

John Ed Bradley, writer for Sports Illustrated and author of seven novels, the last published by ESPN, It Never Rains in Tiger Stadium, told Nicholas that both he and his wife enjoyed reading Talk Football and that it is beautifully done.

Attendees at The University of Mississippi Ladies Football Forum under Coach Houston Nutt received a copy of Talk Football.